Ryan just signed the jacket for an auction. The proceeds go to the Screen Actors Guild Foundation which promotes childhood literacy, scholarships for performers and emergency funds for guild members with catastrophic illness.
The already iconic scorpion is far outpacing the rest of the auction items. A lunch date with Eric Stonestreet ("Cam" on Modern Family) is the only thing near it. The current asking price is with around $1,925 after 54 bids. There's 2 days left so if you're a Gosling fanatic with deep pockets have at it.
This is the closest you'll come to getting under his clothes.
Also Arriving on DVD/BluRay…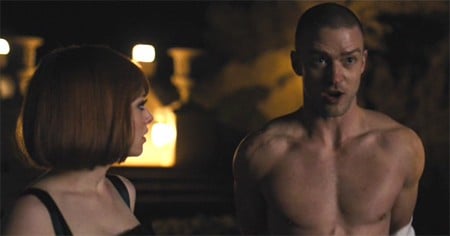 Justin Timberlake goes skinny dipping with Amanda Seyfried in IN TIME but sadly that's not half as sexy as it sounds. 
****
Nathaniel Rogers would live in the movie theater but for the poor internet reception. He blogs daily at the Film Experience. Follow him on Twitter @nathanielr.