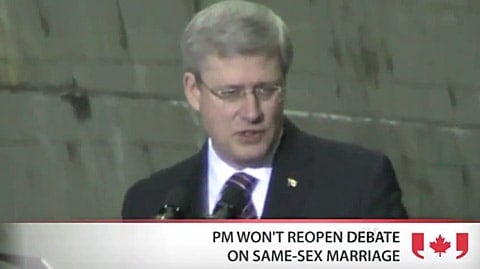 The news this morning that Canada's government has "served notice that same-sex couples who came to Canada since 2004 to get married are not legally wed" will not move PM Stephen Harper to reopen the debate on same-sex marriage, he told press today.
The NDP's Olivia Chow said Harper was sending out confusing messages about the government's intentions, calling the about-face "hugely embarrassing.''
"You can't say that you support gay marriage and then have lawyers say that you don't in court,'' Chow said at a news conference at her Toronto office.
"It's a very backwards way, and I think it will disappoint a lot of Canadians.''
Chow said if the flip-flop was truly a misunderstanding, the prime minister can easily resolve the matter by instructing the government's lawyer in the divorce case to use a different argument.
Watch, AFTER THE JUMP…