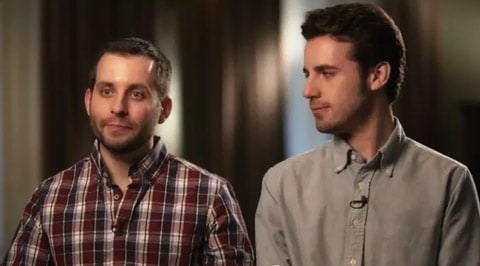 In a new clip from HRC, Craig Stowell, a U.S. Marine Iraq war veteran, argues for his brother's right to marry in New Hampshire as the legislature considers repeal of the marriage equality law there.
Watch, AFTER THE JUMP…
A repeal vote may come as early as next week, Michael Lavers at Boy in Bushwick reports.
CNN has more of the brothers' story:
In a video posted on YouTube, Calvin Stowell described being bullied as a schoolboy because he was gay. "I was constantly asked by my peers: Are you gay? You sound so gay. You walk so gay," said the 23-year-old New Yorker, who works for a non-profit.
Craig Stowell, who is an information technology director for a cabinet maker in Claremont, New Hampshire, empathized.
"There were nights that I worried I may wake up and he wouldn't be there any longer; crushed by the misery he was forced to endure. When New Hampshire extended marriage to gay and lesbian couples, two years ago, he finally felt accepted. He finally felt like he belonged. Since that day 1,800 loving and committed gay and lesbian couples have married."
As the New Hampshire Legislature prepares to vote on whether to repeal the law, HB 437, Craig Stowell – who serves as the Republican co-chairman of Standing Up For New Hampshire Families – has launched an online campaign to keep the law as it is.
Craig's petition at Change.org can be found here. Watch the clip, AFTER THE JUMP…