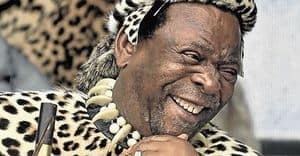 Last weekend, moderate Africans were scandalized when King Goodwill Zwelithini kaBhezkazulu, hereditary leader of the Zulus, said about gay relationships:
There was nothing like that [in traditional Zulu culture] and if you do it, you must know that you are rotten. I don't care how you feel about it. If you do it, you must know that it is wrong and you are rotten. Same sex is not acceptable.
The South African Human Rights Commission quickly condemned King Goodwill's remarks, as did South African president Jacob Zuma. (King Goodwill's position is primarily ceremonial, and he lives and conducts his duties of office within South Africa.) In the following days, representatives of the Zulu royal family insisted that journalists had misheard King Goodwill's remarks. Hoping for clarification, journalists today hustled to the South African province of KwaZulu-Natal to hear the King deliver his first address since the incident, spurred by a release from the South African Office of Traditional Affairs promising that the King would clarify his thoughts on homosexuality.
But the King made no reference to the controversy during his two-hour speech, which he used to stump for the preservation of Zulu history and culture. Which must lead one to consider: Maybe his remarks weren't misinterpreted after all. If not, the King's dislike for LGBT's probably has more to do with personal distaste than with concern for the traditional Christian family structure. Although the Zulus are overwhelmingly Protestant, King Goodwill has six wives.