Marriage equality is closer than ever in Washington state, according to the AP: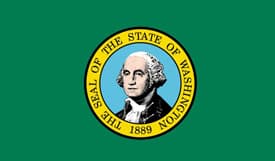 The AP has reached out to all 49 state senators over the past week and found that more lawmakers are firmly supporting gay marriage than opposing it, by a margin of 22-18. The measure needs 25 votes to pass the Senate.
Four other Democrats say they are considering whether to support it, including one who is leaning in favor. A pair of Republicans is among those supporting the proposal, and two first-term GOP members said they are still discussing the issue with constituents.
Two GOP state Senators, Cheryl Pflug and Steve Litzow, have come out in support of it in recent days.
If you missed Governor Chris Gregoire's speech supporting it, you missed a slice of brilliance. Check it out HERE.