You may recall my earlier postings about binational San Francisco couple Bradford Wells and Anthony Makk. Wells and Makk have lived together for 19 years, were married seven years ago in Massachusetts, and have been fighting a battle with U.S. immigration so that Makk can remain in the country. Wells, as you may recall, suffers from HIV-related medical issues and Makk is his chief caregiver. They met with Nancy Pelosi and other Congressional leaders in October to plead for help.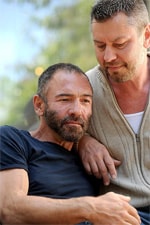 Now some good news. Thanks to the help of Pelosi, Dianne Feinstein, and California state Senator Mark Leno, Makk and Wells have been granted a two-year stay of deportation, the SF Chronicle reports:
U.S. Citizenship and Immigration Services issued a letter to Makk today saying he has been granted "deferred action" on his case for two years. The letter said the action is "an exercise of prosecutorial discretion" that allows the agency not to pursue deportation for a specific period. Makk met multiple conditions of the agency's new guidelines for immigration agents to prioritize deportation cases, including family ties, status as a primary caregiver, lack of criminal record and his long period of legal residence under a series of visas that eventually expired.
Pelosi broke the news to the couple herself today, and issued a statement calling the resolution of the case "a personal victory for Bradford and Anthony" that "keeps this loving couple together." She said she would continue to fight for repeal of DOMA.
It's also a "renewable deferral" according to Steve Ralls at Immigration Equality.