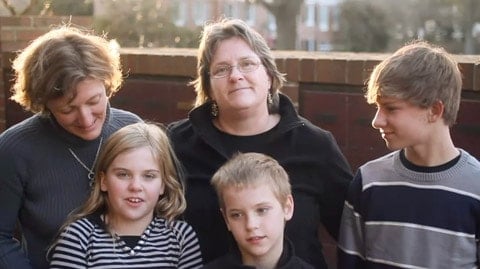 North Carolina voters will weigh in on May 8 on an anti-gay amendment. Today, in downtown Raleigh, a new group called The Coalition to Protect North Carolina Families launched a campaign to defeat it with two web videos, one featuring NC gay familiies speaking out, and the other encouraging LGBT people and allies to have 1,000,000 conversations with friends asking them to defeat it.
The coalition also will begin Jan. 27 a series of events across the state to discuss with the public the harm the amendment would cause if approved. They said it would prevent state-sanctioned civil unions and domestic partnerships besides placing in the constitution what is already state law – that traditional marriage is the only kind recognized…
Coalition campaign manager Jeremy Kennedy said at the campaign's statewide launch event the umbrella group represents all kinds of people from different kinds of family relationships, not just gays and lesbians.
"Our coalition is built to protect all of those families from those very real harms," Kennedy said at the Legislative Building news conference, standing in front of civil rights advocates, ministers, gay rights activists and others.
Watch both ads, AFTER THE JUMP…