Pepperdine University in Malibu has blocked the formation of a Gay-Straight Alliance called 'Reach Out' because Dean of Students Mark Davis says homosexuality is against "God's Will", the L.A. Weekly reports.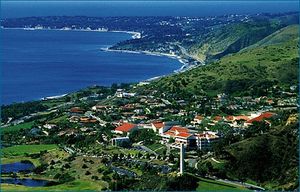 From the Pepperdine Graphic newspaper:
From the administration's perspective, the issue remains how Reach OUT will align with the Pepperdine mission and tradition. While Davis acknowledged that the relationship with the Churches of Christ is important, more central is honoring the biblical conviction that sexual activity should be reserved for a husband-wife relationship.
"Pepperdine seeks to be faithful to this teaching because we believe it is God's will," Davis said, "and therefore we cannot endorse another view or take a neutral position on sexual morality.  Although Reach OUT stated in its application that it has no position on sexual activity, we do not believe it is possible for a LGBT student organization to maintain a neutral position."
A Change.org petition, now signed by more than 4,000 people, has more background:
Until now, the university's policies have created an atmosphere of silence and anxiety that alienates not only the LGBT student population but also anyone concerned for their well-being. The Western Association of Schools and Colleges (WASC) likewise expressed unease in its 2011 accreditation report that Pepperdine's "climate of 'don't ask, don't tell'" prevents it from appearing "safe for open discourse."
Administrators have established a Building Bridges committee in response to some of these concerns, but the committee is primarily generating recommendations that, even if adopted, would not provide LGBT students with a sense of community.
That is why on November 9 Reach OUT applied to become a student organization. On December 13, however, administrators rejected the application. This is the fourth time that a gay-straight alliance has been denied or discouraged from applying.