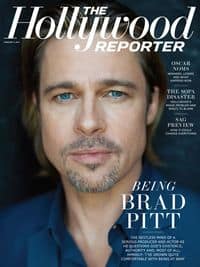 Brad Pitt, who has repeated numerous times since 2006 that he and Angelina Jolie would not marry until gay people can (and put his money where his mouth is by donating $100,000 to the campaign against Prop 8), tells the Hollywood Reporter that the pull of tying the knot may be too strong:
"We'd actually like to, and it seems to mean more and more to our kids. We made this declaration some time ago that we weren't going to do it till everyone can. But I don't think we'll be able to hold out. It means so much to my kids, and they ask a lot. And it means something to me, too, to make that kind of commitment."
Has he asked Jolie to marry him?
"I'm not going to go any further. But to be in love with someone and be raising a family with someone and want to make that commitment and not be able to is ludicrous, just ludicrous."
Watch Pitt shake his mane in his THR cover shoot, AFTER THE JUMP…