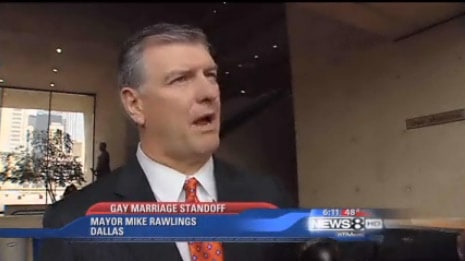 Dallas Mayor Mike Rawlings was not among the dozens of American mayors who signed the 'Mayors for the Freedom to Marry' endorsement of marriage equality last week, and the LGBT community in Dallas is not happy about it, WFAA reports:
The gay groups say they're organizing a 7:00 p.m. protest of Rawlings' refusal to sign a pledge to fight for gay marriage. And Rawlings says although he'll meet with them, he's not backing down.
After being in Washington last week, Rawlings led the city council meeting again, determined to stick to city business. "[W]e were getting off track and dealing with some partisan politics, some issues that I don't think are relevant to the lion's share of the citizens of Dallas, so chose not to do it," Rawlings said.
Watch WFAA's report, AFTER THE JUMP…