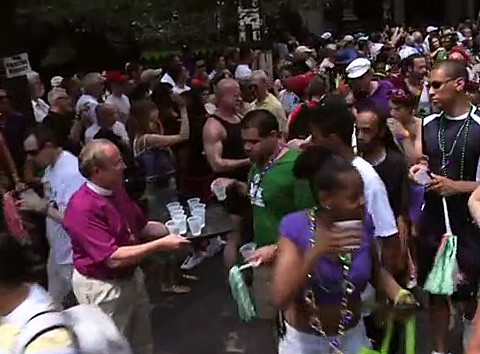 Check out these extremely moving clips from Love Free or Die, the new documentary about gay New Hampshire Episcopal Bishop Gene Robinson which is premiering this week at Sundance.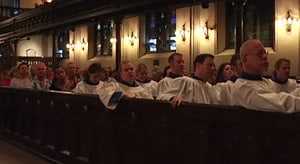 In one clip, he gives a sermon to fellow clergy and volunteers on Gay Pride day before handing out water to marchers in the parade.
Says Robinson in the clip: "…it is a very holy thing that you do when you offer that cup of water. You are representing the community of Christians, and Jews, and Muslims who are 95% the source of all the oppression we LGBT people have experienced in our lives. And so when you offer a cup of water bearing the name of Christ as it says in our gospel today, you are the oppressor offering a cup of water to the oppressed. They get it. They get the act of compassion. My question is, do you get it? Do you realize the important thing that you do by giving a cup of water to those people out there who have been hurt by us, and continue to be hurt by us?"
In another clip, an incident (which I covered here in 2008) in which Robinson is heckled because he is gay by a man at an alternative service Robinson was giving at the Anglican Lambeth conference, is captured on film.
Very, very powerful stuff.
Check it out, AFTER THE JUMP…
Heckler:
Director Macky Alston: