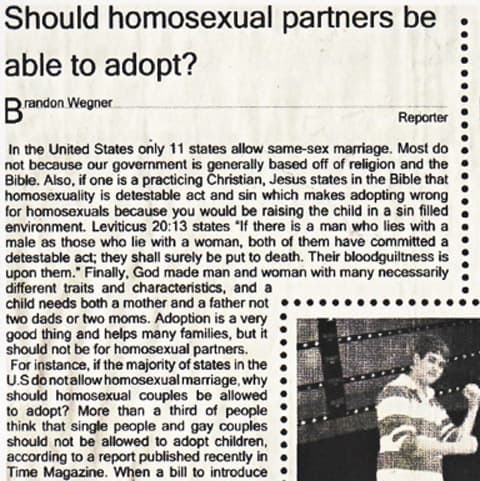 Over the weekend, Brandon posted about a high school student newspaper controversy in Wisconsin. The newspaper had published a point – counterpoint opinion piece (you can read it HERE) on gay adoption that had offended the gay parents of a student at the school because the article arguing against gay adoption, written by a student named Brandon Wegner, cited lines from Leviticus which call for gays to be put to death.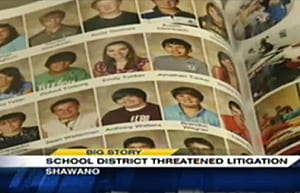 The Shawano School District pulled the piece, and not the right-wing Christian conservative law firm Liberty Counsel is involved, WSAW reports:
Now an attorney with the Liberty Counsel, a non-profit law firm specializing in first amendment rights, is representing Wegner. Harry Mihet says Wegner's first amendment rights have been outrageously violated….Mihet says whether you agree with gay adoption or not is irrelevant.
"He did nothing more than to express his opinion on a particular topic, an opinion in which with some are free to agree and some to disagree but an opinion which is absolutely protected with the first amendment of the Constitution" Mihet said.
Mihet alleges the school district superintendent, Todd Carlson, pulled Wegner out of class and made him feel ashamed for his piece. "The superintendent told him that he had violated the school's bullying policy," Mihet said. "The superintendent also told him he was ignorant and all kinds of demeaning names."
Watch WSAW's report, AFTER THE JUMP…
Liberty Counsel is demanding the school district apologize and tell students that they have a first amendment right to express their opinions. Liberty Counsel says it will sue if they don't comply.
Other conservatives are chiming in. Rod Dreher at The American Conservative is outraged:
Unbelievable. Granted, Wegner's editorial is a thoroughly lame piece of rhetoric, but remember, he was asked by a teacher to take the opposing side of a controversial public issue. For this, the kid gets punished? And not only punished, but his exercise of free speech in a school paper op-ed is "bullying"?!
I hope he sues the knotted knickers off that superintendent and the school district. This is blatantly unconstitutional. Legality aside, the idea that the formal expression of an opinion that annoys a favored class is a form of violent harassment is offensive and dangerous.
Watch WSAW's report, AFTER THE JUMP…
Video may take a few seconds to load.