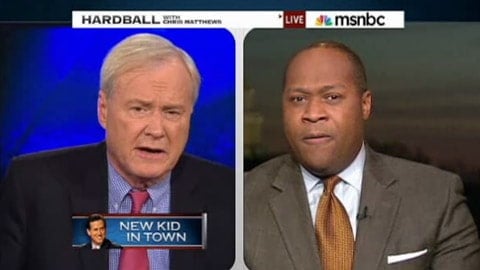 Those of you who have been reading this site for almost seven years may remember that back in 2005, I posted about former Santorum aide Robert Traynham, who was then Santorum's Communications Director, and had just been outed as a gay man by blogger Mike Rogers.
Traynham's still-stunning statement at the time:
"When asked how a gay man could speak for one of the nation's most notorious homophobes, Traynham, left, protested that has 'been with the Senator for eight years.' Traynham went on to say 'Senator Santorum is a man of principle, he is a man who sticks up for what he believes in, I strongly do support Senator Santorum.'"
Traynham apparently still feels that way, because he went on Hardball last night to deflect questioning about some of his former boss' extremist positions on abortion, homosexuality, and 'DADT'. Traynham says that he doesn't agree with Santorum on same-sex marriage but appears to stand up for the candidate under Matthews' pointed questioning.
Watch, AFTER THE JUMP…
Previously…
Santorum's Communications Director Robert Traynham is 'Openly Gay' [tr]
Visit msnbc.com for breaking news, world news, and news about the economy