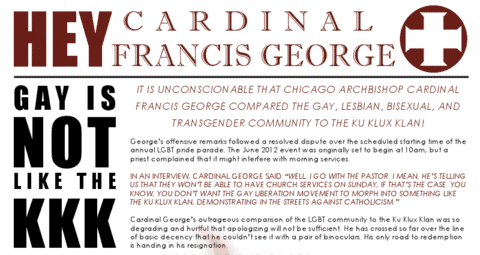 Gay rights group Truth Wins Out put more pressure on Chicago Archbishop Francis George to retire after comparing LGBT activists to the KKK late last month.
In an interview with his local Fox affiliate, Francis claimed that gay pride parades intentionally target the Catholic Church, just like the KKK did in the past. "You don't want the gay liberation movement morph[ing] into something like the Klu Klux Klan, demonstrating in the streets against Catholicism," he said, clearly unaware of what gay pride parades are all about: equality, not bigotry.
Following enormous backlash, George defended himself, saying, "Organizers [of the Gay Pride Parade] invited an obvious comparison to other groups who have historically attempted to stifle the religious freedom of the Catholic Church."
"One such organization is the Ku Klux Klan which, well into the 1940s, paraded through American cities not only to interfere with Catholic worship but also to demonstrate that Catholics stand outside of the American consensus," he claimed. "It is not a precedent anyone should want to emulate."
Hoping to force Francis to resign, or at least highlight the utter repulsiveness of his offensive remarks, Truth Wins Out took out a full-page ad in yesterday's Chicago Tribune to blast the alleged holy man's "unconscionable" comments.
"How does one compare a peaceful movement of non-violent tax-paying families to the KKK, a group with a unique history of terror in the United States?" they ask. "Can the good Cardinal provide examples of masked homosexuals showing up at Catholic Churches to burn crosses on their laws? Can George show us evidence that LGBT people are lynching Roman Catholics? I didn't think so."
It's unlikely Francis will heed TWO's call and step down, especially since the 75-year old is scheduled to retire later this month. Regardless of what else he has done during in his career, his outrageous KKK comments will undoubtedly be one of his most remembered legacies. Unless, of course, he surprises us all and takes it all back. Is it too late for a Christmas miracle?
I've included a pop-up version of the TWO ad AFTER THE JUMP…