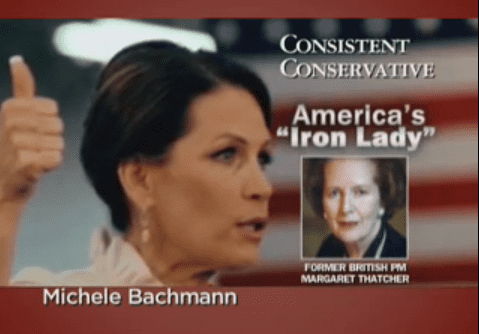 Margaret Thatcher has been all over the news as of late, thanks to the upcoming, Meryl Streep-starring biopic about the former British Prime Minister,
The Iron Lady
.
Hoping to capitalize on this renewed interest, Republican presidential candidate Michele Bachmann has taken describing herself as America's "Iron Lady."
In addition to making the comparison between herself and fellow conservative Thatcher while on the campaign trail, the congresswoman has now released an ad in Iowa that places even greater emphasis on her Thatcher-esque qualities.
Here's the commercial's text, via CNN:
Born and raised in Iowa, only one candidate has been a consistent conservative fighter who fought 'Obamacare,' who fought increasing our debt ceiling – even as other Republicans were cutting deals with Obama. An expert in tax law who will fight for deep cuts in spending to reduce America's debt, restore our economy and create real jobs – and she'll never back down.
But while Margaret Thatcher was able to get her way overseas, the Des Moines Register recently noted that Bachmann, for all her popular support and high-profile crusades, has been ineffective at passing actual laws.
Watch Bachmann's "Iron Lady" ad AFTER THE JUMP…