Washington's House Judiciary Committee advanced the marriage equality bill yesterday, the AP reports: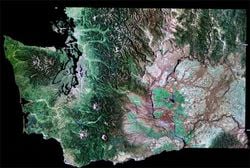 The House Judiciary Committee approved its gay marriage bill on a party line vote, with seven Democrats voting for it, and six Republicans voting in opposition.
Three Republican amendments were rejected, including one that would have added private businesses and individuals, such as bakers and photographers, to the religious exemption in the measure that doesn't require religious organizations or churches to perform marriages, and doesn't subject them to penalties if they don't marry gay or lesbian couples.
The bill will now go to a House fiscal committee but a hearing has not been scheduled.
A Washington Senate panel advanced the bill last Friday. Senator Ed Murray said he expects a full Senate floor vote tomorrow. According to the latest count, the bill has the votes to pass in the Senate.