William Kristol, the editor of the conservative Weekly Standard, has refused to condemn an email advertisement sent out by the paper that was written by Loudon County, Virginia wingnut and anti-gay activist Eugene Delgaudio, warning people that federal anti-bullying legislation is a secret plan to "indoctrinate" children with "homosexual propaganda".
The Human Rights Campaign called on its members to contact Kristol and demand he condemn the ad. The Log Cabin Republicans blasted the paper for sending it out as well.
You may recall Delgaudio's nutty fundraising letters and his work against the Student Non-Discrimination Act in the past. You may recall that Delgaudio fought tooth and nail against an anti-discrimination ordinance in Loudon County, labeling transgender people "it" and "real life Tootsies".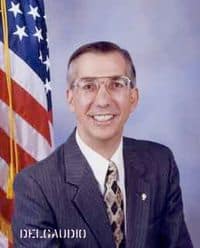 The email, in part:
Dear Pro-family American, The Radical Homosexuals infiltrating the United States Congress have a plan: Indoctrinate an entire generation of American children with pro-homosexual propaganda and eliminate traditional values from American society. Their ultimate dream is to create a new America based on sexual promiscuity in which the values you and I cherish are long forgotten. I hate to admit it, but if they pass the deceptively named "Student Non-Discrimination Act," (H.R. 998 & S. 555) that's exactly what they'll do. Better named the "Homosexual Classrooms Act," its chief advocate in Congress is Rep. Jared Polis, himself an open homosexual and radical activist. And it's dangerously close to becoming the law of the land….
….You see, the Homosexual Classrooms Act contains a laundry list of anti-family provisions that will: Require schools to teach appalling homosexual acts so "homosexual students" don't feel "singled out" during already explicit sex-ed classes; Spin impressionable students in a whirlwind of sexual confusion and misinformation, even peer pressure to "experiment" with the homosexual "lifestyle;" Exempt homosexual students from punishment for propositioning, harassing, or even sexually assaulting their classmates, as part of their specially-protected right to "freedom of self-expression;" Force private and even religious schools to teach a pro-homosexual curriculum and purge any reference to religion if a student claims it creates a "hostile learning environment" for homosexual students. And that's just the beginning of the Homosexual Lobby's radical agenda….
….other countries like Britain are already experimenting with this kind of legislation, such as mandating public schools inject pro-homosexual content into every aspect of education. Word problems in math classes are now to include homosexual characters.  History classes will document the "civil rights" struggle against the "oppressive" pro-family establishment. And it's even started to infiltrate our state governments. In California, lawmakers want to "require schools to portray lesbians, homosexuals, transsexuals … as positive role models to children in all public schools." Sexual deviants being held up as models of virtue?
H.R. 998 already has 150 co-sponsors in the House! And S. 555 already has 34 co-sponsors in the Senate! That's why I need you to act quickly — right away — to protect our nation's youth. I have prepared the official "Protect Our Children's Innocence" Petition to Congress for you to sign.
Please click here to sign it right away so I can rush it to the Capitol with thousands more.
The Weekly Standard, which reportedly apologized to its readers,  tells Politico the ad was not properly vetted but Kristol refuses to condemn it.