Governor Neil Abercrombie and Director of the State Department of Health Loretta Fuddy have filed two separate answers in a response to a lawsuit challenging Hawaii's ban on same-sex marriage, according to a news release from Attorney General David M. Louie, Hawaii News Now reports: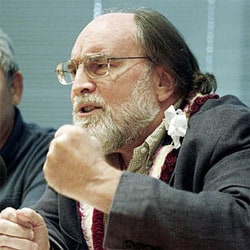 In his response, Gov. Abercrombie said that "Under current law, a heterosexual couple can choose to enter into a marriage or a civil union. A same-sex couple, however, may only elect a civil union. My obligation as Governor is to support equality under law. This is inequality, and i will not defend it."
"It's bittersweet, but I do feel great that agrees and that he's actually standing by us in that way," said Natasha Jackson, who filed the lawsuit with her partner, Janin Kleid, after they were denied a marriage license by the Department of Health last November. The two have entered a civil union, but want the same benefits of marriage that opposite-sex couples have, including having their marriage recognized in all states. "If we get the rights here, we don't want to go someplace where we don't have the rights. It just doesn't make sense so it limits our mobility," said Kleid.
The lawsuit has another plaintiff as well, Gary Bradley, who hopes to marry his now civil partner.
Fuddy said she was obligated to defend the law:
"The Department of Health is charged with implementing the law as passed by the Legislature. Absent any ruling to the contrary by competent judicial authority regarding constitutionality, the law will be enforced. Because I am being sued for administering the law, I will also defend it."
Read the full news release, AFTER THE JUMP…