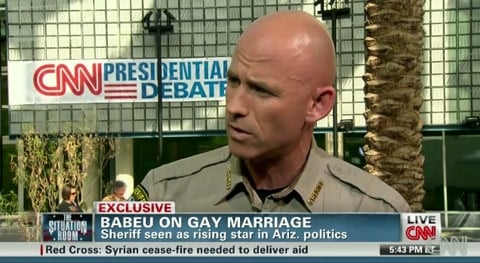 Pinal County, Arizona Sheriff and Republican congressional candidate Paul Babeu did a lengthy interview this afternoon with CNN's Wolf Blitzer about the Mexican ex-boyfriend whose allegations of threats involving their relationship forced Babeu to come out of the closet over the weekend.
The full interview is about 10 minutes longer than this clip, which came near the end of it. Blitzer asks Babeu, since he now "openly gay", what his thoughts are about gay marriage and whether he might now join the Log Cabin Republicans.
Babeu says he "goes all Ron Paul" when it comes to gay marriage and says it's an issue that should be left up to the states. It's unclear whether he knows what the Log Cabin Republicans are, but replies "I'm sure" when asked if he would get involved with them. Blitzer also asks him if he's seeing anyone at the moment.
That clip, along with one about the allegations being made by his ex-boyfriend and another on his decision to leave the Romney campaign follow below.
Watch all the clips, AFTER THE JUMP…
One more clip:
And another: