GLAAD met with Roland Martin recently over tweets he wrote during the Super Bowl, one in which he mocked men who wear pink, and another in which he advocated violence toward men attracted to men (specifically, male fans of David Beckham). Martin was suspended by CNN as a commentator for the tweets.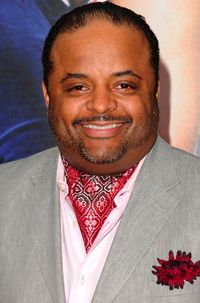 On his TV One Washington Watch news analysis show, Martin cited Dr. Rev. Martin Luther King, Jr. saying that he met with GLAAD's senior director of programs and communications Herndon Graddick to sit, at "a 'table of brotherhood' where people from different backgrounds could sit down, break bread and discuss their differences, all in a hope to get to know one another better."
Martin then issued another non-apology apology.
"Over breakfast for over 90 minutes, Herndon shared his thoughts with regards to my tweets and why he deemed them offensive to the LGBT community, and I reiterated my apology that — that if anyone who construed my comment[s] as being anti-gay or homophobic, or advancing violence, that was not my intent, and for that I was truly sorry.
And touted his support for other LGBT rights issues:
"Now, do we agree on all issues? No. But, ironically, I have historically supported many of the issues important to the GLAAD agenda, such as ending [the] 'Don't Ask, Don't Tell' policy; gay adoption; and including gays in hate crimes laws. Those, folks, are facts. But it is only through dialogue do we get an opportunity to see each other's perspective and learn what it is like to walk in that person's shoes.
Martin then gave what might be perceived as a warning that he'll possibly be speaking out in ways that gays might not like: "I have no plan to abandon my goal as a truth teller on a variety of issues; and, yes, that includes those that may be on the LGBT agenda.":
"Well, first, it is important to understand that I operate in the role of a journalist – not an activist – one who is used to participating in and leading the difficult discussions, whether on TV, radio, in print, or online. As I said to Herndon, on this show, we speak to the African-American community. And as I've said on many occasions, the Black community should, and must, discuss the issues involving sexual orientation – whether it's personal, with regards to the church, in our families, or our schools. And I've been a vocal opponent of bullying, whether that involves heterosexuals or gay youth.
"Now, have we had these discussions? Yes. Will we continue to have these discussions? No doubt. My goal as host and managing editor of 'Washington Watch' is to shine a light on the issues and then peel back the complex layers so we all have a much better understanding.
"Now, if you're gay or straight, your voice matters. If you are a pastor or activist, your voice matters. I have no plan to abandon my goal as a truth teller on a variety of issues; and, yes, that includes those that may be on the LGBT agenda. I am confident that this table can serve as an example of Dr. King's 'table of brotherhood,' and I and this excellent team will do all we can to advance the dialogue so we all can learn, grow and prosper together.
GLAAD released a statement following the meeting praising Martin's character and "willingness to engage":
GLAAD's meeting with Martin on Tuesday, February 14, was a good introduction. He has committed to meeting with GLAAD and other organizations in the near future for a more substantial dialogue. We support Martin's commitment to use his media platforms to shed light on the harms of hate-inspired violence and look forward to continuing this dialogue. GLAAD was one of several organizations and LGBT advocates who originally called on Martin to take responsibility for his tweets. We will be reaching out in hopes of working with and involving members of the community in this ongoing discussion.
Following our call in regard to Martin, there has also been discussion around issues of race and the LGBT community. Against the best interest of everyone, racial epithets and homophobic language were used in online attacks against Martin and GLAAD. GLAAD unequivocally condemns racist language or behavior. The LGBT community is made up of people from all races, genders, faith groups, and all walks of life. The fundamental belief in equality for all people is at the very core of all that we strive to accomplish.  
Part of GLAAD's job as an organization is to hold the media accountable for the words it presents and to help create a society in which every person can live without fear of violence on the basis of their identity.   GLAAD welcomes Martin and his willingness to engage with us around these issues.  It's not easy to sit down with a group that has just spoken out publicly in the way we did.   It speaks to his character that he is willing to have this dialogue with us and for the comments he made today.  We thank him for that and look forward to working with him and continuing to talk with him about how we can achieve our mutual goals together.
Read GLAAD's full statement here.