Rep. David Bates, (R-Windham), the lawmaker leading the charge to repeal New Hampshire's marriage equality law, has organized a rally today on the state house steps, the Union Leader reports: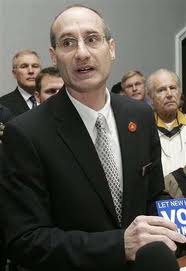 "This is a way to demonstrate support for traditional marriage," Bates said on Monday. "Supporters of the law say a majority support the law. I firmly don't believe that's true."
The rally is also being backed by Cornerstone-Action, one of the main groups seeking to overturn the same-sex marriage law. In an effort to counter Bates' message, Stand Up for New Hampshire Families, the organization recently formed to fight the repeal effort, plans to have its own speakers at the State House.
The rallies sprang up over hearsay:
There was some confusion on Monday over which group was countering the other. Bates said that he had organized the rally to respond to one he thought was going to be held by Stand Up for New Hampshire Families, which in turn insisted it had no plans to hold an event.
The dueling rallies come as both sides in the debate maneuver ahead of a vote on the repeal bill, HB 437. No vote is scheduled for this week, but Cornerstone said in an email about the rally that one could come as soon as Feb. 15. Bates said he is crafting an amendment designed to win the widest margin of support.
Watch Bates testify and do a Q&A about his repeal bill in February 2011, AFTER THE JUMP…