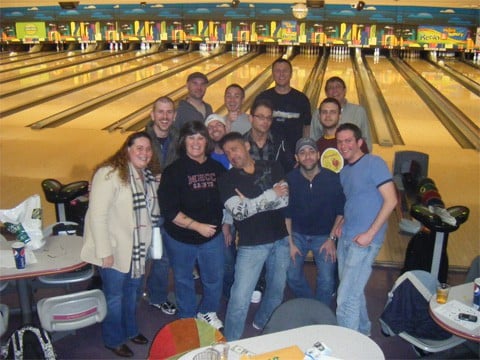 The owner of Portland, Oregon's Hollywood Bowl bowling alley doesn't like gays.
From a Towleroad reader:
I am part of a LGBT bowling league (above) in Portland, Oregon that has been a fixture in the city since the '70's. For over a decade we have called Hollywood Bowl our home alley. However, within the last couple of weeks we have watched Hollywood Bowl become increasingly unfriendly to our league.
We received notice through our league administrator that bowling leagues do not fit Hollywoods new business model and thus we are being asked to find a different alley. We were sad at the news but accepted the scenario as we were assuming that all leagues were being asked to leave. Recently, we became aware that the only leagues that were being asked to leave were the two gay leagues and a league that is administrated by two lesbians. All other leagues are being allowed to stay as they fit into Hollywood's new family friendly business model.
This has not gone over very well in the league at all. We feel really alienated as we have families too and brought a lot of revenue to the alley both during and outside league meets once a week.
Hollywood Bowl's contact info can be found here, should you wish to tell them how you feel about this. HB's Facebook page is here.
UPDATE: The lane's owner Mark Frank denies the accusations to the Portland Mercury.
Our reader responds:
The timeslot offered is already taken by a smaller "straight" league. About ten or so teams. The house has started a new promotion on Sundays that would leave no room for non-league bowlers if we took the 6:30 timeslot offered. Why start a new promotion only to have the entire house filled with league bowlers? It doesn't seem legit to us as a league. And this offer was presented to us after we contacted the local media. It feels like a ploy to save face. We are a league of 26 teams with four people each. There's no way that we could be accommodated in that timeslot and the owner knows that.