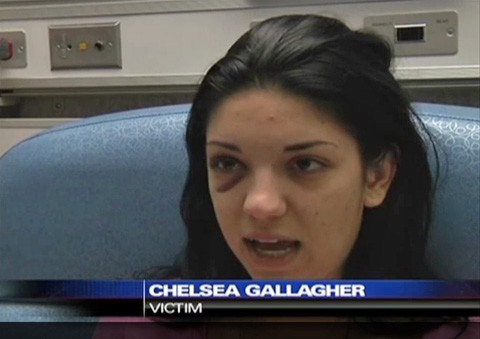 Shane Williams (below, right), a football player at Colorado Mesa University, beat Chelsea Gallagher after she and her girlfriend Ashley got into an argument with Williams and another man at a bar in Grand Junction, Colorado. The attack occurred because Gallagher is a lesbian, NBC 11 reports: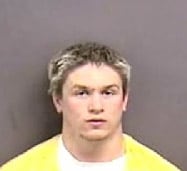 "Going outside to leave, is when they started kind of making comments about us being gay and saying that Ashley looked like a boy and stuff," said Gallagher.
And that's the last thing she remembers. She apparently has no memory of the 15 minutes before and after she regained consciousness from her head injury.
Gallagher's girlfriend said it began with anti-gay slurs against the couple and two friends.
"I got kind of testy with him as well. It started out as just an argument," said Davis.
Davis said a man named Dakota was yelling homophobic slurs at the four women. "Me and Dakota ended up in a little bit of a scuffle, some pushing and what not," said Davis. "I guess he had me in a head lock, and at this time I think Chelsea was trying to break us up."
That's when witnesses said Shane Williams got physical.
"My roommate said that he picked me up by the waste and slammed me down on the ground."
The alleged attack resulted in a fractured skull, bleeding from the ear and an extended stay at the ICU for Gallagher.
Williams was arrested Friday on suspicion of second degree assault, possessing a fake ID and underage drinking, but is now out on bond.
Watch, AFTER THE JUMP…
More at KJCT8.
Video takes approximately 10 seconds to load.