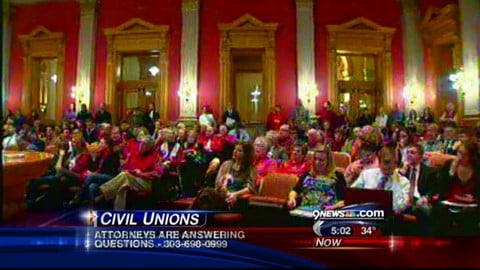 The Colorado Senate Judiciary Committee advanced a civil union bill last night, which, if passed, would provide gay and lesbian couples with critical legal protections and responsibilities, such as the ability to take family leave to care for a partner, to make medical and end-of-life decisions for a partner, to live together in a nursing home, and to adopt children together, according to LGBT rights group, One Colorado.
Watch two reports from 9News on the debate and vote, AFTER THE JUMP…
A Senate committee approved civil unions legislation after hours of emotional testimony on a 5-2 vote, with one Republican senator joining Democrats. The bill is expected to easily clear the full Senate. The real challenge will be in the Republican-controlled House.
It's expected to clear the full Senate for votes in the House. A nearly identical bill failed last year in the House Judiciary Committee, which still has the same members today and is expected to handle the bill again. If it fails at that same point, supporters vow to keep on trying.
"Every year this gains ground," Sen. Pat Steadman (D-Denver,) who sponsored Senate Bill 2, said. "One of these days it's going to cross the finish line. It's coming soon."
Said Brad Clark, Executive Director of One Colorado, in a statement: "We applaud today's vote to ensure that all committed couples have the tools they need to provide for the ones they love. Especially in these difficult economic times, gay and lesbian couples need civil unions to take care of their families. Today's testimony reflects the widespread support for this legislation. Business executives and faith leaders, Republicans and Democrats, gay parents and straight allies all realize that passing civil unions is the right thing to do. With their approval, the Senators on the Judiciary Committee affirmed that all families are worthy of dignity and respect."
Watch two reports from 9News on the debate and vote, AFTER THE JUMP…