Some new statistics have been released about the number of gay and lesbian couples who married in New York state in other communities outside of New York City, the NYT reports: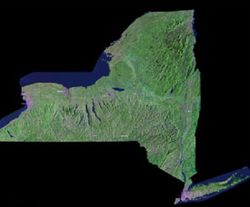 …statistics released by the state on Wednesday show that more than 2,300 same-sex couples have wed in other communities in the state since the Marriage Equality Act took effect.
Of the same-sex couples who specified their gender, 1,393 were made up of two women, and 983 of two men, according to the State Health Department, which compiled the statistics. The same-sex marriages made up about 7 percent of the more than 34,000 unions that the state has recorded since July 24, the day gay men and lesbians were first allowed to marry.
New York City tracks its licenses separately from the state, and did not have statistics available on Wednesday.
The numbers are likely undercounted, the paper adds, because specifying a gender is not required on marriage licenses and 20 percent of those issued since the marriage equality law took effect did not specify the gender of the couple joining in marriage.
Note: The AP, in its report, counts 2,400.