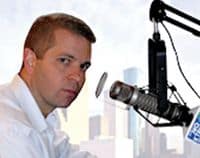 … and we know this because the establishment's security footage has finally been released to the public.
As Andy reported: Michael Berry, a Republican, former city councilman, and syndicated radio talk show host famous for thinking murderous thoughts about those of his fellow citizens who happen to be Muslims, has been accused of perpetrating a hit-and-run outside of T.C.'s Show Bar in the Montrose gayberhood of Houston on January 31st, 2011. Berry allegedly reversed some 70 feet in a Chevy Tahoe, slammed into the car of a bouncer named Tuderia Bennett, who happened to be standing right outside the bar, and sped away. Witnesses confirmed the hit and run, and Bennett says he got a clear look at the perp before he drove off, as well as a good reading of the vehicle's license plate. When traced, the plate number turned out to be Berry's.
From Raw Story:
Berry, a former Republican city councilman, suggested on his radio show on Thursday that he had been framed by his "enemies."

"I've always said when you do what I do, the way I do it, you make enemies," he said. "When you poke your finger in as many people's eye as I do every day, you make enemies," adding that they will "will accuse you of most anything."
Now, a man who looks very much like Berry can be seen by all on footage from T.C.'s security cam, which was posted yesterday by KHOU 11. With the tape, the witnesses, and the license plate number, Houston police have more evidence than is usually brought to bear on hit and run cases. Nevertheless, they've so far declined to launch a full investigation of Mr. Berry. Bennett suggests this is because of Berry's connections in local government.
For the record: There was a drag show in progress during Berry's visit to T.C.'s Show Bar, and while it's odd to catch a professional right-winger in such environs, Berry's presence is not necessarily indicative of hypocrisy. Berry celebrates at least one drag queen on his website, which features a page devoted to the comedic stylings of Shirley Q. Liquor.
Anyway — watch KHOU 11's coverage, as well as the uncovered security footage, AFTER THE JUMP …