Former Archbishop of Canterbury Lord Carey is speaking out strongly against marriage equality in the UK, in an article attacking PM David Cameron for his support of same-sex marriage, the Telegraph reports: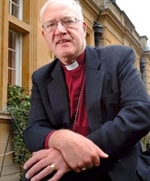 Lord Carey wrote that he was ''baffled'' by David Cameron's statement at last year's Conservative party conference, in which the Prime Minister said: ''I don't support gay marriage in spite of being a Conservative. I support gay marriage because I am a Conservative.''
In his article, Lord Carey said: ''Like many others, I was baffled by this statement. Not because I begrudge rights and benefits to homosexual couples.''
He said he was baffled ''because this Government's proposal constitutes one of the greatest political power grabs in history.''
He went on: ''The state does not 'own' the institution of marriage. Nor does the church.
''The honourable estate of matrimony precedes both the state and the church, and neither of these institutions have the right to redefine it in such a fundamental way.''
Carey is also throwing his weight behind an ugly new petition campaign called Coalition for Marriage which you can check out HERE.
Martin Robbins shreds the campaign in The Guardian.
Said activist Peter Tatchell in response to the campaign: "The Coalition for Marriage is intolerant and out of touch. Its support for the ban on gay marriage is homophobic and discrimination. Coalition members are entitled to believe that same-sex marriages are wrong, but they are not entitled to demand that their opposition to such marriages should be imposed on the rest of society and enforced by law."