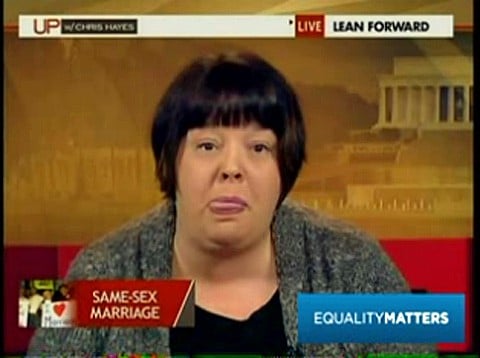 On MSNBC's Up with Chris Hayes on Saturday, NOM's Maggie Gallagher was grilled by Hayes over the trends and polling in marriage equality and why anti-gay activists are losing (she doesn't think so, of course). Hayes also asked Gallagher why 'no fault' divorce shouldn't be the focus of NOM's efforts instead of gay people.
Watch, AFTER THE JUMP…
Richard Kim, executive editor of TheNation.com, laid into NOM's "anti-gay animus" and her history of anti-gay rhetoric.
Gallagher denies that NOM's website endorses a whole array of discredited right-wing memes about gay people.
Writes Carlos Maza at Equality Matters:
Kim, of course, was entirely accurate in his depiction of Gallagher and NOM's anti-gay animus. He returned later in the show to quote a TownHall.com article Gallagher wrote in 2001 in which she called homosexuality a "sexual dysfunction" and called for federal research dollars to support "ex-gay" therapy. NOM president Brian Brown also recently celebrated a study on the effectiveness of "ex-gay" therapy, calling it "good news."
Gallagher's defense of NOM's blog – that linking to an article isn't an endorsement – is questionable at best. While NOM does occasionally link to gay news publications like The Advocate, it is important to examine what type of stories NOM highlights from that paper. Over the past few months, NOM has linked to or cited The Advocate in order to highlight stories about gay men advocating for non-monogamous relationship, the decriminalization of pedophilia, and equality in divorce laws.
Meanwhile, the blog – which Gallagher claims to keep a "close track of" – has linked to a number of extreme and inflammatory anti-gay columns.
Watch, AFTER THE JUMP…