Popular gay hook-up app Grindr is being questioned by House lawmakers over the hacking and privacy breach the Sydney Morning Herald reported in January.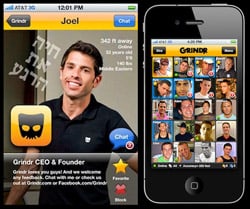 Energy and Commerce Committee Ranking Member Henry A. Waxman and Commerce, Manufacturing, and Trade Subcommittee Ranking Member G. K. Butterfield sent a letter to founder Joel Simkhai with questions about the security of the app.
Write the lawmakers:
This incident raises questions about the steps your company takes to protect the privacy and security of your users' information.  The web pages containing the privacy policies for both of your mobile apps claim that they are "all about your privacy."[6]  Yet an independent security expert found there were security vulnerabilities in your apps that could have been mitigated, but were not.[7]  Every online service that asks its users to trust it with the transmission or collection of their information – whether it is a social network, a dating service, a retailer, or a financial institution – has an obligation to its customers to properly secure that information.  Ensuring adequate security for users' information is an essential element of protecting their privacy.
The congressmen are asking for answers about collected users' data, security enhancements, the company's response to users regarding the alleged breach, and additional information that might be collected by the app, requiring the company to respond to a lengthy set of questions by March 8.
Read the letter here.
Grindr has called reports that the site was compromised "unfounded speculation".
UPDATE: Grindr tells Towleroad, in a statement:
As has been reported earlier this year, when issues were raised concerning potential security issues, Grindr took significant steps to address those concerns. Indeed, in the last several weeks, Grindr has implemented security improvements addressing reported vulnerabilities to all of its applications including Grindr and Blendr on all platforms.  We have required all users to upgrade to the latest releases.
These steps were completed before Grindr received a letter from Congressman Henry Waxman and G.K. Butterfield, today, February 23, 2012.   Grindr is reviewing the letter and will diligently focus on their questions and respond to the committee in due course.

Meanwhile, Grindr is hooking up with the Courage Campaign to try and convince the DNC to add marriage equality to its plank, the SF Chronicle reports:
As part of the effort, Grindr will send messages to people who have downloaded the app, asking them to sign a Courage Campaign petition that will be sent to the chairwoman of the Democratic National Committee, Florida Rep. Debbie Wasserman Schultz.
Adam Bink, director of online programs for the Courage Campaign, said the organization had no qualms about teaming up with the site, which calls its efforts "Grindr for Equality."
"There's a social dating site for really every kind of person and flavor," he said. "We really have to reach people where they are."
Recent statements from Grindr claimed more than 3 million users globally.