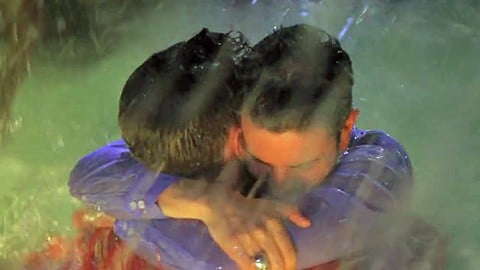 A September wedding on Fire Island turns into drag soup.
Our reader Sam writes: "They were married this fall in the Pines and it was really the best wedding I've ever seen.  And I'm not just saying that because I was the best man."
Watch, AFTER THE JUMP…
Check out our previous Gay Wedding videos…
Young Gay Couple Marries in Beautiful Clip from Italy [tr]
Gay Wedding Video of the Day: Amir and Chandler [tr]
Gay Wedding Video of the Day: Ruben and Joaquin [tr]
Dan and Eric Find Their Wedding Reception [tr]
Patrick and Scott Tie the Knot in Minnesota [tr]
First Dance at a Gay Wedding [tr]
We are starting a regular column featuring gay wedding videos (see some of them at links above). If you've got a creative wedding video online you'd like to share with Towleroad to celebrate marriage equality in this column please send it along. Extravagant, simple, sexy – we'll consider them (but can't guarantee we'll post them) all – the more creative the better! Let us know at tips – at – www.towleroad.com.
Wedding Video from Aaron Eiseman on Vimeo.