Indiana Rep. Bob Morris (R – Fort Wayne) did not realize that his homophobic, transphobic, anti-feminist letter to fellow lawmakers attacking the "radicalized pro-abortion" Girl Scouts might draw attention beyong the Hoosier legislative sphere, including a mocking skit from Conan O'Brien.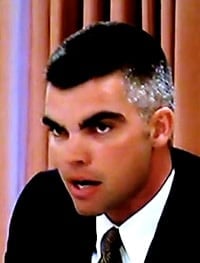 He has now issued a statement apologizing and saying "It is my sincere hope that this statement will end the publicity with regard to my letter."
I apologize to the Girl Scouts of Indiana and all of the girls and parents of Indiana who are participating in and running their Girl Scout organizations in a way that promotes leadership, community involvement and family values. I certainly should not have painted the entire Girl Scouts organization with such a wide brush.
As I have mentioned, the letter was intended for only my colleagues in the Statehouse. That is not an excuse for the breadth of my letter – rather, it is the reason for the lack of research and evidence it contained. I was merely attempting to express my reasons for not signing the House Resolution honoring the Girl Scouts and challenging my colleagues to think about the issue. I assure you that on matters of state policy and law making my research is extensive. Too, had I known this letter would have gone to a wider audience, I would have cited further evidence for my position.
In hindsight, I never should have written the letter. However, I still would not sign the Resolution honoring the Girl Scouts – not because of any local troops or even the Girl Scouts of Indiana, but because of the Girl Scouts of the United States of America (Girl Scouts USA) and its policies. My conscience would not allow me to publicly endorse an organization that partners with Planned Parenthood – our State's leading abortion provider. My family and I view abortion as the biggest evil of our time. And as Blessed Pope John Paul II said in his Encyclical Letter Evangelium Vitae, "every person sincerely open to truth and goodness can, by the light of reason and the hidden action of grace, come to recognize in the natural law written in the heart (cf. Rom 2:14-15) the sacred value of human life from its very beginning until its end, and can affirm the right of every human being to have this primary good respected to the highest degree." I hope that my stance will help to spread the Gospel of life. Perhaps it will cause the Girl Scouts USA to reconsider its policies.
Read his original letter here.
(via shakesville)