As I mentioned earlier today, tomorrow's decision regarding the constitutionality of Proposition 8 is coming tomorrow before 10 am PST. We'll have the ruling followed by analysis from Ari Ezra Waldman here on Towleroad.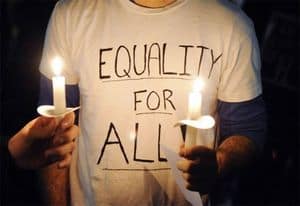 The American Foundation for Equal Rights is holding a press conference at 10:30 am in L.A. which we'll try to have for you live here.
Here's some information on rallies being held around tomorrow's Prop 8 decision.
FIRST RALLY @9:45 AM:
Gather on the steps of the Ninth Circuit Federal Courthouse, 95 7th Street (at Mission), San Francisco, CA 94103-1518 to receive the ruling (anticipated at 10:00 AM). Afterwards, we will proceed to San Francisco City Hall, where clergy will be available to bless couples who are not able to marry because of Prop. 8. (Even if the Ninth Circuit rules in our favor, it is highly likely that there will be a stay on the decision, meaning no marriages could take place immediately.)
SECOND RALLY @5:00 PM:
Gather at Jane Warner Plaza, on 17th street across from the MUNI station on Castro and Market, San Francisco, CA 94114 for a community rally. We will either celebrate or protest the decision, and either way, rededicate our resolve to achieve full federal equality nationwide.
More information on rallies in other parts of California (Contra Costa County, Santa Clara County, Sacramento, Fresno,and San Diego) at Marriage Equality USA's Facebook page.
In Los Angeles:
Love Honor Cherish, City of West Hollywood, NoH8, Marriage Equality USA, Lesbian & Gay Lawyers Association of Los Angeles, Lambda Legal, California Faith for Equality, Stonewall Democratic Club, Log Cabin Republicans of Los Angeles, GetEQUAL, Hollywood NOW (National Organization for Women), Christopher Street West, Ecumenical Catholic Church of Riverside, GLIvyN, MarriageTrial.com, and Equal Roots Coalition have organized a rally at West Hollywood Park starting at 6 pm:
First, we will gather at the West Hollywood Park (next to the Abbey) to hear various speakers from the community, including West Hollywood Mayor John Duran, NoH8 founder Adam Bouska, Love Honor Cherish Interim Executive Director Eric Harrison, Stonewall Democratic Club President Stephen Simon, and Jon Davidson, Legal Director of Lambda Legal.
Then we will march down Santa Monica Blvd to demand full equality now!