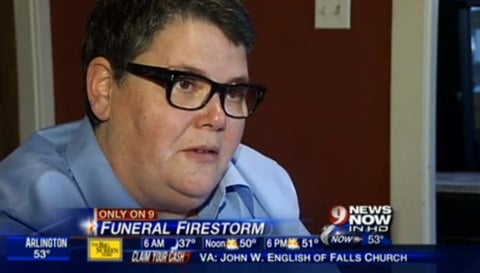 Yesterday I linked to a story posted by the family friend of Barbara Johnson, telling of how a Catholic priest at a Maryland church walked out of a funeral in protest during Johnson's eulogy for her mother, after refusing her communion, all because she is a lesbian.
Watch an interview with Johnson, AFTER THE JUMP…
Now WUSA picks up the story: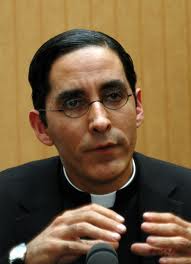 Just a few minutes before the funeral began, Father Marcel Guarnizo, who was presiding over the service, apparently learned that Barbara was involved in a romantic relationship with another woman.
A lifelong Catholic and former Catholic school teacher, Barbara says she hadn't even considered that her sexual orientation would be a problem with Father Marcel until she stepped forward to take communion.
"He said, 'I can not give you communion because you live with a woman,'" Barbara says.
Though shaken by Father Marcel's actions, Barbara says she tried to compose herself to give her mother the dignified funeral she deserved.  So a few minutes later, Barbara began her eulogy.
"At which time Father Marcel left the altar and didn't return until I finished my eulogy," Barbara says.
Father Marcel refused to accompany the body to the cemetery, saying he was ill.
Watch an interview with Johnson, AFTER THE JUMP…