Liberia's Senate is set to consider a hideous anti-homosexuality bill today, the AP reports: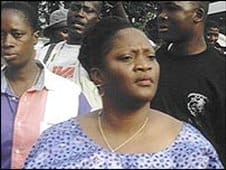 Liberia's former first lady, Senator Jewel Taylor, submitted a bill last week that would prohibit same-sex marriage and make homosexuality a first-degree felony, punishable by up to 10 years in prison.
"We are only strengthening the existing law," she said. "Some media are reporting that I said anyone found guilty of involvement in same sex should face the death penalty, I did not say so, I am calling for a law that will make it a first degree felony," she told the Associated Press.
The current law considers gay relationships a first-degree misdemeanor, which carries a punishment of up to a year in prison.
Meanwhile in Cameroon, the AP adds, 10 women have been arrested under suspicion that they are lesbians:
Consensual same-gender sex is considered criminal in Cameroon and punishable by a jail sentence from six months to five years and a fine. Gay rights defender and founder of the Association for the Defense of Homosexuals, Alice Nkom, says detainees in Cameroon are frequently tortured in police stations to force them confess.