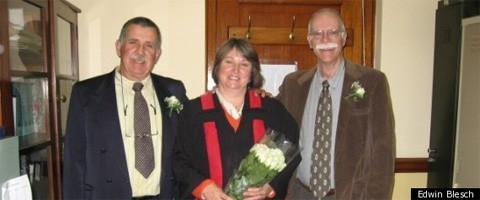 A married gay binational couple has received news that the threat of deportation for one of them under DOMA has been temporarily alleviated, the HuffPo reports:
Tim Smulian, a 65-year-old South African citizen, found out on Wednesday that he will be allowed to stay in the United States for at least one year under "deferred action" on his immigration documents. Smulian is married legally to Edwin Blesch, a 71-year-old U.S. citizen, but for years has spent six months in the country, and then six months away because he could only obtain a tourist visa.
"We do see it as the beginning of the light at the end of the tunnel," Blesch said. "We were getting pretty hopeless for a while there. This is a wonderful development for us, and it takes away the day-to-day worry every morning when we get up, 'What's going to happen now?'"
In January, binational San Francisco couple Bradford Wells and Anthony Makk found out they were getting a reprieve. Let's hope this continues for the many same-sex married couples out there affected by unjust immigration laws.