Maryland's marriage equality bill, which passed the House in a squeaker on Friday, is expected to hit the ground running in the Senate this week, the WaPo reports: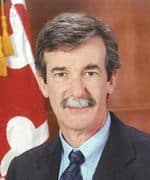 Sen. Brian E. Frosh (D-Montgomery), chairman of the Judicial Proceedings Committee, said in an interview Sunday that his panel will vote "quickly"on the gay nuptials bill that narrowly cleared the House of Delegates on Friday night.
A vote Tuesday would allow the bill sponsored by O'Malley (D) to be passed on the Senate floor this week, Frosh said. If there are delays, he expects a full Senate vote by early next week.
Both Frosh's committee and the full Senate passed similar legislation to legalize same-sex marriage last year. The vote on the Senate floor was 25 to 21, with one opponent missing. No senators have announced a change in position since last year.
Over the weekend, the WaPo took a look at how close the Maryland marriage equality vote was in the House, which in a 71-67 vote had not one to spare.
Despite the months-long campaign, Friday's outcome became possible only with the late support of a pair of Republicans and a handful of Democrats who opposed last year's bill.
One of those, Del. John L. Bohanan (D-St. Mary's), waited until 6 a.m. Friday to send House Speaker Michael E. Busch (D-Anne Arundel) a text message notifying him of his decision to vote for the bill.
Bohanan said he changed his position after long reflections while driving back and forth to Annapolis last week. "Once I began to look at this through the eyes of my own kids and other young people, it became pretty clear," said Bohanan, who has four sons ranging in age from 17 to 21. "You want them to have love, and if that's how they want to express it, you want them to be able to do it openly."