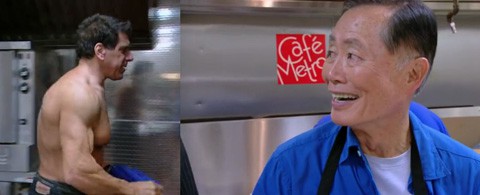 On last night's Celebrity Apprentice, Star Trek's George Takei made his hots for Incredible Hulk Lou Ferrigno known.
Said Takei: "I don't know how old Lou is now, but what a treat."
Watch, AFTER THE JUMP…
On another note, later in the board room, Trump (whose distaste for same-sex marriage was on full ugly display in his recent attempts to be the GOP candidate) defended Takei from accusations that he was "meek" during the challenge, and said that he admired Takei's strength as a leader "in the gay movement".
If the clip's not playing here, you can check it HERE.
(via buzzfeed)