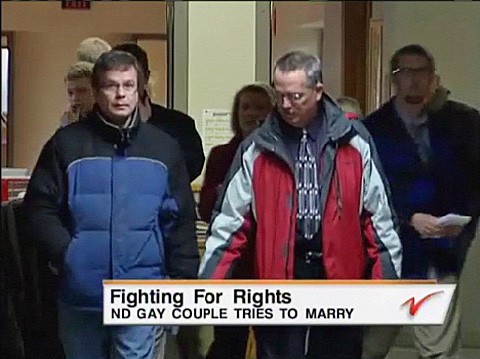 Tired of waiting and being denied equal rights, Lenny Tweeden and Wayne Rosell, a Fargo, North Dakota couple who have been together for more than 20 years, decided to request a marriage license yesterday even though they knew their request would be rejected. They did it to make a statement, Valley News Live reports.
Watch the couple take their request to the courthouse, AFTER THE JUMP…
The Grand Forks Herald reports:
The end result was not in doubt: North Dakota law does not permit Sandvik or her staff to even provide a marriage application to same-sex couples such as Tweeden and Rosell.
"I hope you understand," Sandvik told them.
After she turned them down, Sandvik told Tweeden she had received a call from someone in Grand Forks who wanted to express their support for the couple. "I wanted to pass that on to them," Sandvik said after rejecting Tweeden and Rosell's request.
Outside the courthouse, a handful of people made signs in support of the couple, while nobody showed up in opposition to gay marriage. Inside, former Fargo Mayor Jon Lindgren, a friend of Tweeden and Rosell, was waiting with bouquets of flowers for the pair before they arrived.
Watch, AFTER THE JUMP…
(clip may take a few seconds to load)