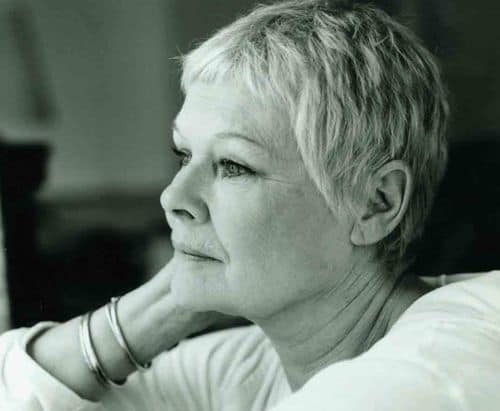 Dame Judi Dench battles enroaching blindness:
She confessed: "I can't read scripts any more because of the trouble with my eyes.

"And so somebody comes in and reads them to me, like telling me a story.

"It's usually my daughter or my agent or a friend and actually I like that, because I sit there and imagine the story in my mind."

… "The most distressing thing is in a restaurant in the evening I can't see the person I'm having dinner with.

"Actually, what I miss are people corpsing on stage.

"I know there might be something going on but sometimes I can't see it and that infuriates me as I think I'm really missing out on something."

A second man has been arrested for the beating of Brandon White:
Dorian Moragne turned himself in to Atlanta police custody late Friday afternoon with his attorney close by. According to police, he will be charged with robbery and aggravated assault.

… Moragne, 19, is one of three men police have been seeking in the beating of Brandon White, since video footage of the Feb. 4 incident appeared on the internet.

His surrender makes him the second suspect in police custody. Christopher Cain, 19, was arrested on Feb. 11. Cain, who was being held in the Fulton County jail, is charged with aggravated assault, participation in a criminal street gang, robbery by force and burglary.

Police are still seeking a third man who has not been identified.

At Slate, Dear Prudence dispenses good, sane advice to incestuous gay brothers, and good, strong ammunition to slipperyslopers.

On Hail Mary candidates and Mitt's impending Michigan disaster.

On Frank Vandersloot, the skeezy billionaire and Mormon extremist who's one of Mitt Romney's biggest backers:
Anyone who is the national finance co-chair of Mitt Romney's presidential campaign deserves probing, substantial scrutiny. That's equally true of someone who continues to use their vast wealth to influence the outcome of our elections and our most inflammatory political debates. And it's certainly true of someone who has made it a regular practice of threatening journalists, bloggers and activists who shine light on his political and business practices.

If you've ever wondered about exploding pits of pig poop, read this.

"Without Betty Dodson, America would be a lot less good at masturbating." Not that she thinks we're very good at it anyway.

It's time to clean up our space junk.

Dlisted covered Whitney's funeral:
We're coming up on hour three of Whitney Houston's "Going Home" memorial and I don't know how my eyelids are still able to open after sitting through Kevin Costner talking for 35 million minutes about himself, himself, himself, himself, Jesus, himself, himself and how he himself put Whitney in The Bodyguard when nobody else wanted her in it. Oh, and he talked about himself and how Whitney is auditioning before God now (or something like that). The dozens of people taking a nap with their eyes open should've been the choir's cue to sing Kevin off the stage, because DAMN. Dances with Woofs was shorter than Kevin's speech.

Someone somewhere will find a way to blame this on the gays. From the Times:
After steadily rising for five decades, the share of children born to unmarried women has crossed a threshold: more than half of births to American women under 30 occur outside marriage.

… Among mothers of all ages, a majority — 59 percent in 2009 — are married when they have children. But the surge of births outside marriage among younger women — nearly two-thirds of children in the United States are born to mothers under 30 — is both a symbol of the transforming family and a hint of coming generational change.

One group still largely resists the trend: college graduates, who overwhelmingly marry before having children. That is turning family structure into a new class divide, with the economic and social rewards of marriage increasingly reserved for people with the most education.

"Marriage has become a luxury good," said Frank Furstenberg, a sociologist at the University of Pennsylvania.