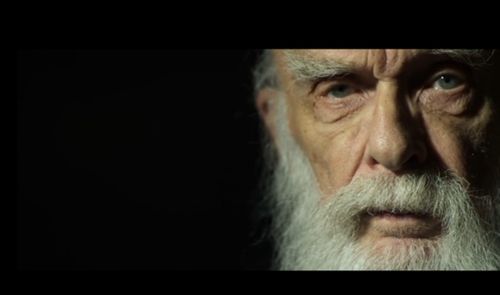 James "The Amazing" Randi, the legendary conjurer, performer, writer, debunker of frauds, and lifelong crusader for skepticism and reason is at long last getting his own documentary. It will be directed by Justin Weinstein, of Being Elmo fame, and there's no telling when it's coming out. (According to the doc's website, Weinstein and co. are still seeking backers.) But the trailer suggests it'll be cool. It's got interviews from Penn & Teller, Richard Dawkins, Bill Nye, Neil deGrasse Tyson, Adam Savage — a whole galaxy of dudes of unsurpassable coolness and smarts. From the press release:
As a teenager, James Randi did what most kids only dreamt of: he ran away to join a traveling circus and never looked back. Dubbed "The Amazing Randi," his feats of magic and escape, and acts of mentalism made him an international celebrity. At the same time, however, he saw those same powers being used by con men, faith healers, and psychics for thievery. Knowing that it takes a thief to catch a thief, Randi dedicated his life to expose these charlatans.
 

… An Honest Liar will chronicle how a curious child rose to the ranks of showman and then advanced to renowned demystifier of paranormal claims. We will hear firsthand about his celebrated debunking of the spoon-bending Uri Geller and his many visits to the Tonight Show where he exposed the faith-healing Peter Popoff.  The film will bring to life such schemes as "Project Alpha," where two magicians posing as psychics fooled a scientific study on paranormal powers, and the famous "Carlos Hoax" in which Randi unleashed a fake mystic upon the people of Australia. 

Interspersed with episodes from his past, the film will go behind-the-scenes while Randi prepares for another grand scale debunking. With the precision of a seasoned magician, Randi will research, plan, and assemble an Ocean's Eleven-type team for a carefully orchestrated exposure of a fraudulent religious organization.
Personal note: I met James Randi when I was a devoutly religious, very superstitious young teenager, and he took the time to befriend me and show me the beauty and power of science and critical thought. I hope this flick finds a wide audience, so his celluloid self can maybe do the same for some other confused kids. (Incidentally, Randi's gay. He's been with his partner since the late 80's, and he came out to the broader public in 2010.)
Watch the trailer for An Honest Liar AFTER THE JUMP …
An Honest Liar – Work-in-Progress trailer from Justin Weinstein on Vimeo.