Out gay Arizona Democratic State Representative Matt Heinz says he will run for Rep. Gabrielle Giffords' seat in Congress, the Arizona Daily Star reports: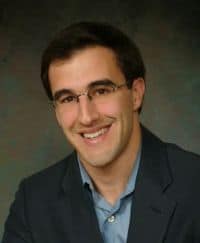 Heinz said he will be running in both the special election and the November general election. Touting his experience problem solving and creating consensus across party lines in the Legislature and as a doctor at the Tucson Medical Center, Heinz said he's the best person to fill Giffords' position. Heinz has served four years over two terms in the state legislature.
"I've been thinking a lot about how we can move forward and how we can best honor Gabby's strength, conviction and leadership," Heinz said Tuesday morning. "One of the best ways we can do that is by moving quickly and making sure that, in this very short time frame, we get somebody in there to fill that vacancy that is going to carry forward her tradition of common sense, moderate, consensus-building and problem solving."
Arizona's special election primary is April 17, and the general election is June 12. Giffords has not made any indication of a candidate she'd like to fill her seat.
David Mixner noted last month that along with Heinz there is another possible gay contender for Giffords' seat, open lesbian State Senator Paula Aboud.
So far, Heinz is the only Democrat to throw his hat in.