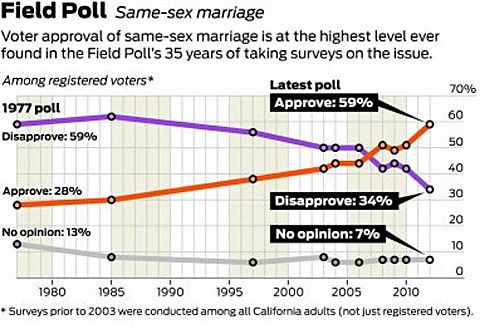 A new Field Poll out of California shows greater support for same-sex marriage than ever before with 59% approving, the SF Chronicle reports:
What's notable is that some of the more significant gains in support came from Catholics, Latinos and older voters – part of the core of support for voter-approved Proposition 8, the 2008 ballot measure that defined marriage as between a man and a woman.
The paper adds:
In a separate question, 51 percent of respondents said gays should be allowed to marry – up from 44 percent two years ago. The survey found that 29 percent support civil unions but not marriage and 15 percent favor no legal recognition. Five percent had no opinion.
"It's a wholesale change in public opinion," said Field Poll Director Mark DiCamillo, noting that Field has polled on same-sex marriage issues since 1977. "Right now, it is more of a political objection than anything else."
Much more at the Chronicle and more at the Sacramento Bee.