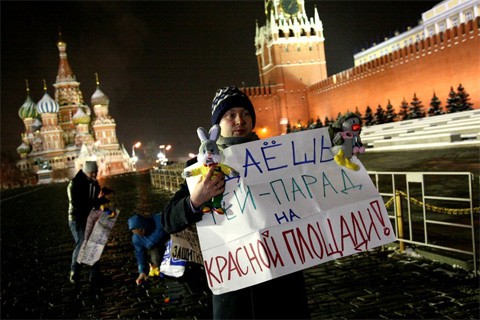 St. Petersburg, Russia's Legislative Assembly passed the draconian anti-gay bill under consideration there on its third and final reading today. The restrictive law bans and impose fines ( $16,000 on individuals and up to $160,000 on legal entities) on all Gay Pride events, LGBT organizations, and anything considered to be "promotion" of homosexuality.
The bill also officially equates homosexuality and pedophilia.
RIA Novosti reports:
"Twenty-nine of 50 legislators voted for the law with five against and one abstention. It follows similar bans in the southern Astrakhan and central Ryazan and Kostroma regions in Russia."
The bill now goes to St. Petersburg governor Georgy Poltavchenko, who is expected to approve it. It is then printed and goes into effect 10 days later.
"It's a collapse of the policy of gay groups collaborating with authorities in St. Petersburg for several years. GayRussia and Moscow Pride have been fighting against similar laws since 2009 without anyone's helps. We have always said that this case can only be legally resolved when the UN Human Rights Committee and especially the European Court of Human Rights delivers a binding verdict against similar laws in Ryazan region in the case initiated by activists of GayRussia and Moscow Pride who were harshly criticized for their actions against these laws by organizations in St. Petersburg" said Nikolai Alekseev, Founder of GayRussia and Moscow Pride, on Facebook.
Similar bills are being considered in Moscow, and proposed nationally.