Pinal County, Arizona  Sheriff Paul Babeu gave an interview to the Washington Blade. In the interview with the Blade's Chris Johnson, Babeu talks about his intention to continue as a candidate despite the charges being leveled against him and also discussed various positions on LGBT issues.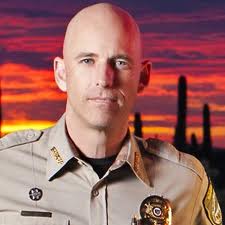 He said he's been in contact with a few gay groups:
Since coming out, Babeu said he's been in contact with numerous national LGBT leaders. Among them are heads of conservative groups: R. Clarke Cooper, executive director of Log Cabin Republicans, and Jimmy LaSalvia, executive director of GOProud.
Babeu said he's reached out to the Gay & Lesbian Victory Fund and has friends at the organization. On Saturday evening, Babeu said he was set to talk via phone with Chuck Wolfe, the Victory Fund's CEO. Babeu said he hasn't spoken to the Human Rights Campaign, but said he's a member of the organization and is on its mailing list. The sheriff said he's made contributions to the Gay & Lesbian Alliance Against Defamation and has been a member "in the past."
He said despite his support for LGBT issues, he voted early for Romney and will vote for Republican leadership if elected:
Despite his pledge to work as an LGBT advocate, as a Republican candidate, Babeu noted he would vote for Republican leadership if elected to the House. Under the leadership of House Speaker John Boehner (R-Ohio), pro-LGBT initiatives have seen no progress.
Still, Babeu said he thinks pro-LGBT initiatives will be able to see movement in the 113th Congress even with Republicans in the majority if he's elected because he'll work to influence lawmakers.
One piece of legislation he had no comment on was UAFA, which deals with "enabling gay Americans to sponsor their foreign born same-sex partners for residency in the United States."
"To be honest with you, I haven't read the legislation," Babeu said. "I'd be happy to read it and give you an answer after that. You know where I stand on all these other issues, which are consistent with being an advocate for equality."
Read the full interview here.
Last night, an Arizona news station reported that Babeu had once been in charge of a Massachusetts boarding school charged with abuse of its students and had once lived with a male student there against the advice of his sister.