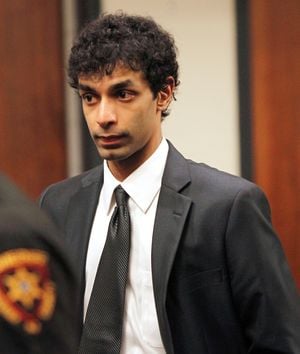 Opening remarks were made yesterday in the criminal trial of Dharun Ravi, the Rutgers freshman whose webcamming of roommate Tyler Clementi's gay hookup may have led to Clementi's suicide. One of the Rutgers sudents who watched the illicit webcast, Cassandra Cicco, was called to the stand by the prosecution, but her remarks may have been most helpful to Ravi's defense.
Cicco was the roommate of Molly Wei, a new friend Ravi had made in his first weeks at Rutgers, and Cicco was in her bedroom when Ravi was ejected from his own room by Clementi. Ravi joined Cicco and Wei in their dorm, where Ravi and Wei viewed images from Ravi's webcam for "a few seconds." The images showed Clementi and his partner clothed, "making out" on the bed.
The prosecution in the trial will seek to prove that Dahrun Ravi meant to ridicule Clementi for being gay, but Cicco and other witnesses insist that's not the case. From ABC:
Cicco said that she never heard Ravi disparage his roommate for being gay or having a gay relationship before or after his Webcam spying. Cicco was in the room when Molly Wei, her roommate, and Ravi decided to watch the webcam.

… Like Cicco, other witnesses testified today that Ravi was not homophobic and that he and other students did not talk much about the event after it happened.

"It's scandalous because the guy (with Clementi) was older, not because it was a guy," said Alvin Artha, a friend of Ravi's from the dormitory. "He was older, not a Rutger's student. That's why Dahrun was acting the way he was."

Cicco also noted the older appearance of the man, known only as M.B. in court documents, who was with Clementi.