The Virginia Senate today gave final passage to a bill that allows private adoption agencies to discriminate against gays: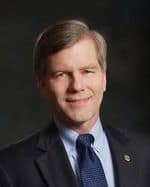 The Senate voted 22-18 Tuesday to pass legislation allowing private agencies to deny placements that conflict with their religious or moral beliefs, including opposition to homosexuality. The House had already passed the bill, which only needs Republican Gov. Bob McDonnell's signature to take effect July 1.
North Dakota is the only other state with such a law.
Democrats Charles Colgan and Phillip Puckett joined all 20 Senate Republicans in voting for the so-called "conscience clause" legislation.
McDonnell (pictured) has promised to sign the bill.