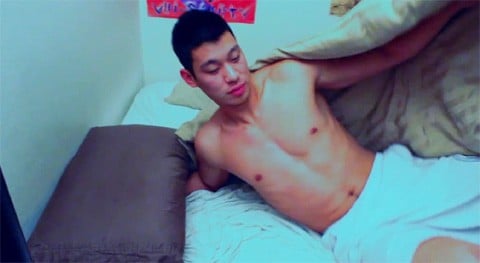 Gay Asian blogger Yellow Peril on how the craze over New York Knicks star Jeremy Lin is having "sociosexual" implications:
Normally I don't like it when guys bring up my race when they're hitting on me. Without question, race is usually a major component of sexual chemistry (and I certainly have my own preferences), but there's no easier way to feel like a piece of meat than when you're being compared to an anime character. But this was different. And it was entirely new to me.
I was being likened to an all-American mainstream superstar, not a niche fetish.
Since then, I've gotten wing-manned by Linsanity on several more occasions. On my Adam4Adam account, I have a picture posted that features me clutching a strategically-placed basketball. (I took this picture as one of the subjects of a photography project called Sexy Geeks.) The photoshoot was taken months before Jeremy's Shakespearean rise to meteoric stardom, when the image of an Asian man clutching a basketball was meant to be a critique on societal stereotypes. How quickly things change.
Now, I'd gotten no less than 30 messages on Adam4Adam that directly comment on the basketball picture, gushing about Jeremy Lin.
More at…
Asian Men with Balls: Sociosexual Implications of Linsanity [i am yellow peril]
(image source)