Tara Servatius, the blogger behind the racist, homophobic image used for a post blasting the Obama campaign's opposition to North Carolina's Amendment One that would ban same-sex marriage, has resigned from the John Locke Foundation, the conservative N.C. think tank which published her post, the Charlotte, Observer reports: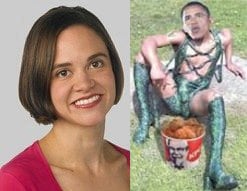 On Thursday, Servatius told the Observer in a statement that she didn't mean to offend with her portrayal of Obama, and that she considers fried chicken not a racial stereotype but a symbol of Southern cuisine.
"I was searching for a picture of the president in drag to illustrate his Southern political strategy of courting young voters, a majority of whom support gay marriage," Servatius said. "Regrettably, I didn't think about the racial implications of the picture when I posted it. I simply don't think in those terms. Unfortunately some people do. To me, fried chicken is simply a Southern cuisine. So the picture seemed perfect to illustrate Obama's Southern strategy."
But others found her decision to use the image out-of-bounds – and cause for dismissal if she hadn't taken the hint and resigned first.
John Hood, president of the John Locke Foundation, which publishes "Meck Deck" on its Charlotte site, called the illustration "utterly inappropriate." He also assured one Facebook friend that Servatius "is no longer a contributor to our site … I would have made that decision for her, but she beat me to the punch by ending her role."
Previously…
NC Group Posts Racist Obama Picture in Gay Marriage Criticism [tlrd]