An unexpected move from the Catholic church in Maine, the Kennebec Journal reports: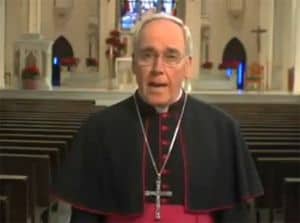 The Roman Catholic Diocese of Maine will take no active role in a political campaign against a same-sex marriage referendum that's expected to be on the November ballot, Bishop Richard Malone announced today.
Instead, the diocese is expanding an existing educational program to better inform church members about the qualities and benefits of marriage between one man and one woman.
The diocese will not be buying TV ads, taking special collections, or contributing staff to anti-gay marriage campaign, the paper adds:
Malone said the diocese doesn't want to impose a law or belief on anyone, but it does want to make the church's position known and contribute to the public debate over the push to redefine marriage.
"It's our constitutional right to make our voices heard," he said.
The pastoral letter will be distributed through Catholic schools and churches across the state, posted on the diocesan website and published in its Harvest magazine in May. It also will be the subject of church discussion groups and radio broadcasts. Malone said the information is meant for parishioners, "but we're hoping the message gets out beyond."
The largely in-house educational initiative represents a significant departure from the major role that the diocese played in supporting a successful 2009 referendum against gay marriage. The diocese contributed more than $500,000 to that $3.8 million campaign and its public affairs director took a leave of absence to lead the effort.
As you may recall, during the state's last marriage battle, Malone asked every Catholic Mass across the state play a video "homily" asking churchgoers to fight against marriage equality. Malone and the diocese also cut off funding for a group that helps the homeless as revenge for the group's support of the Maine "No on 1" campaign.
More recently, Malone announced the formation of a chapter of "Courage," the worldwide Catholic ministry for people "struggling with" same-sex attractions.