Francis House, a homeless shelter in Sacramento, has had its funding pulled from the city's Catholic Diocese because its new director supports same-sex marriage and abortion rights, the Sacramento Bee reports: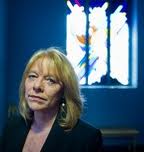 In a letter last month, the diocese's director of social services said the Rev. Faith Whitmore's public statements on the issues clash with the teachings of the Catholic Church. Therefore, said the Rev. Michael Kiernan, the social services director, it is "impossible for the diocese to continue funding Francis House" as part of its annual Catholic Appeal.
Each morning, dozens of poor people line up at Francis House, in Sacramento's homeless services epicenter on C and 14th streets, for help with basic services such as housing and transportation. Now in its 42nd year, the organization is one of the largest homeless services agencies in the Sacramento region, serving upward of 25,000 people. It has an annual budget of about $500,000.
For at least two decades, Francis House has received annual donations from the diocese ranging from $7,500 to $10,000, said Michael Miiller, a member of the agency's corporate advisory board.
Said Whitmore (pictured): "I have never represented any of those positions on behalf of Francis House. I was speaking as an individual. So for me, this came out of the blue."